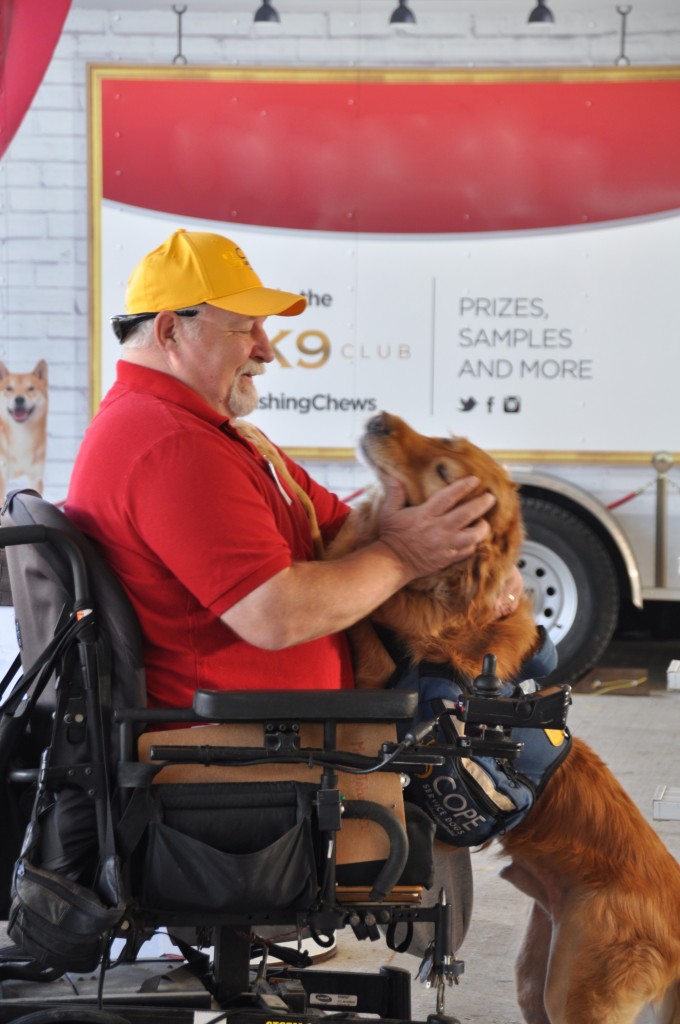 SERVICE / MOBILITY DOGS

HOW DO SERVICE DOGS BENEFIT PEOPLE WITH DISABILITIES?
COPE Service Dogs specializes in training dogs for people with mobility disabilities who live within a three-hour drive from the Barrie, Ontario office and reside in Canada.
We currently DO NOT provide the following types of assistance dogs:
guide dogs for people who are blind or visually impaired

hearing dogs for people who are deaf or hard of hearing

seizure alert/response dogs for people with epilepsy

diabetic alert dogs for people with diabetes

autism assistance dogs

psychiatric service dogs for people with PTSD, depression, anxiety or any other psychiatric disability
Service dogs help people overcome the limitations of their disabilities and the barriers in their environment.
Scientific research has begun to validate the role of service dogs for people with disabilities. In 1995, a 2-year study by Dr. Karen Allen, found that people with disabilities who were supported by service dogs scored higher for psychological well-being, self-esteem, community integration and the amount of control they could exert over their environment.
In addition, the number of personal assistant (human) hours required for care decreased by an average of 78%. Other studies support the findings of improved self-esteem, independence and social acceptance.
FACILITY DOGS

Facility Dogs go to work!
COPE dogs can be partnered with a teacher, counselor, health care worker, social worker or health professional for the purpose of providing social interaction, therapeutic intervention and canine assisted education for many different people. The dog accompanies his/her partner at work in order to augment their regular educational, social or therapeutic practices.
COPE's approach to placing a Facility dog focuses on three major areas: the facility; the handler (the person(s) handling the dog at work) and primary caretaker (the person(s) who will be the dog's caregiver/look after and be responsible for the dog at home); and the dog's role in your facility.
Please note that COPE prioritizes placing Facility dogs in the Simcoe County area and locations where we operate. There are often significant wait lists for Service and Facility dogs and occasionally we close our waiting list due to high volumes.
COMMUNITY CANINES

COPE Community Canine Partners who would like to provide a forever home to a puppy and serve their community by doing therapy work after the puppy graduates.
What:
A program in which COPE–bred puppies are trained via the Canines in the Classroom and Reading Buddy programs to become therapy dogs that go on to work with their owners to enhance the lives of others.
Where:
The puppies are trained in COPE's Canines in the Classroom program under the supervision of professional trainers. This program allows the students to experience many personal, academic and social benefits as they participate in the training of these wonderful therapy dogs.
When:
Whenever COPE has new puppies to enter the program. Get on our waiting list for a COPE Community Canine by contacting Peggy Lee at peggy@copedogs.org
Why:
To maximize the mutual benefits of human/canine interaction. Community Canines help those people who could benefit most.
How:
COPE Community Canine Partners purchase a COPE- bred puppy and ensure it can participate in Canines in the Classroom training classes on for 2 years. Partners are trained on handling skills with their Community Canine and will perform therapy visits from the time the dog is 1 year old.
The Fine Print:
COPE covers the cost of dog food and treats through the generosity of Pedigree®. COPE can offer discounted veterinary care through the generosity of COPE approved animal hospitals. COPE covers the cost of training of the Community Canine Partner.
Community Canine Partners are responsible for purchasing the puppy, all care for the lifetime of the dog, and transportation to all training and therapy visit sessions (including Canines in the Classroom).