HARLEY COOPER LOVES BARRIE!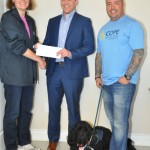 Photo: COPE Service Dogs' Executive Director Karen Gowdy, Sutton Realty's Harley Cooper, COPE Service Dogs' Eddie Galbo & Walker
Harley believes in giving back to our community. It was with great pleasure that COPE Service Dogs received a generous donation from Harley Last month. Harley has also pledged a percent of every house he sells with Sutton Realty will be donated to COPE Service dogs! Many thanks to you Harley from the bottom of our hearts and the tips of our tails!
Related Posts
If you are enjoying this, then please explore our other articles below.